Post by cruelseawanderer on Nov 17, 2022 15:45:08 GMT
Hello Folks,
I've just finished cleaning up and repairing a couple of figures, which I received in a few job lots of Action Man bits which I bought at auction recently.
These two figures are GI Joes, they're stamped on their bottom Made in Canada, so I think these might be early ones sent to Palitoy to be re boxed as Action man, I can't really think of another reason why they'd be sold as action man otherwise, other than someone getting mixed up, but I would be interested to know more about these figures if anyone has any information.
The uniforms they are wearing are frog skin / duck hunter pattern fatigue shirt and trousers with two patch pockets in the shirt and two patch pockets on the back of the trousers, there is also stitching representing pockets on the front of the trousers but no actual pockets. The labels say GI Joe Made in Hong Kong.
I also have another three sets of these fatigues uniforms, and another GI Joe Made in the USA figure. Two of the uniform sets are the same as these, but the third is labelled GI Joe Made in Japan.
The figures are a work in progress, I'm trying to put them together to resemble the GI Joe Green Beret Machine Gun Outpost Set from 1967/8 sears catalogue
I have the Machine Gun, the Camouflage Netting, the tent poles and the Foliage pieces to complete the equipment from this set, but the machine gun needs repairs to the tripod, and the netting needs untangling from the messy ball it's currently in.
I was inspired to try and put together this set after obtaining my standard Action Man American Green Beret outfit in the same lot of bits.
I was researching the American Green Berets and came across an article about the 7th Special Forces Group who served as advisers early in the Vietnam war, this led me to finding a photo of the GI Joe Sears Machine Gun Outpost Set, which I though looked very nice, so I thought I'd have a go at putting one together.
I'll post photos of the finished set once I manage to complete it
I've posted a few photos below of progress to date for now for information.
Dave
American Green Berets from the 7th Special Forces Group Vietnam 1963/4 I think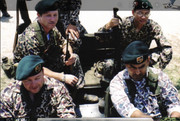 Details of Frog Skin Duck Hunter Camouflage Uniforms Worn by 7th Special Forces Group in Vietnam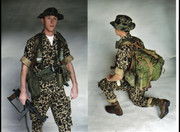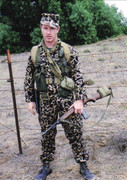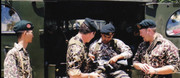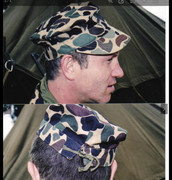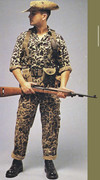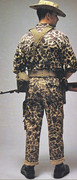 Sears GI Joe Green Beret Machine Gun Outpost Set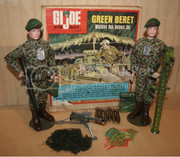 And last but not least, the two GI Joe figures I'm working on creating my version of the Sears Green Beret Machine Gun Outpost Set with.